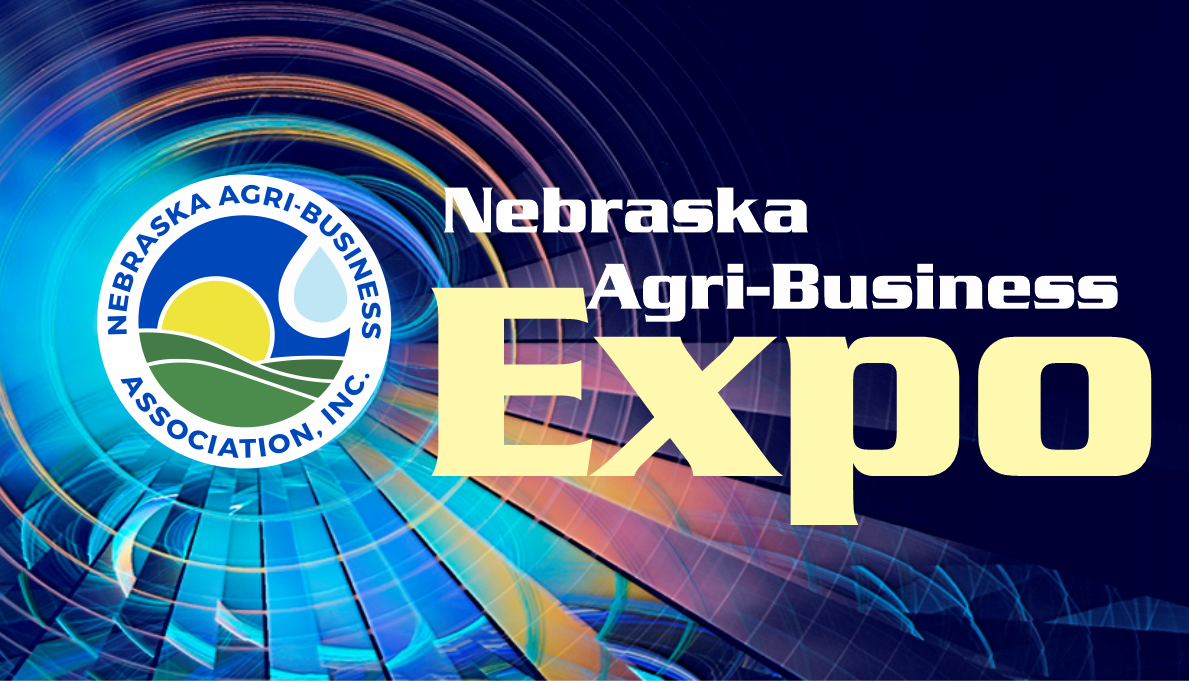 Next Show Dates:
January 23-24, 2024
Younes Conference Center North
707 W Talmadge St
Kearney, NE 68845
(308) 238-7002
2024 Exhibit Hours:
January 22, 2024
Move-In — 8:00 am – 6:00 pm
January 23, 2024
Show Time — 9:00 am – 5:30 pm
Social In Exhibits — 4:00 pm – 6:00 pm
January 24, 2024
Show Time — 9:00 am – Noon
Move-Out — Noon – 3:00 pm
Complete Agenda
Exhibitor's Forms for the 2024 Exposition:
All forms are pdf fillable. Complete with your computer, save it, and email it to Rebecca Barker at the Nebraska Agri-Business Association
 EXHIBITOR REGISTRATION IS OPEN 
Furnishings, Electricity, IT, and Shipping Questions:
– SHIPPING INFORMATION –
Freight or Shipment of Materials: Freight shipments for any event will not be accepted more than five (5) days prior to the move in date on the contract. Shipments arriving before this time will be subject to storage charges of $10.00 per package, per day or may be refused by the hotel/conference center. No C.O.D. shipments will be accepted. All shipments must have visibly displayed information on each package.
Name of event
Full name of the individual claiming the shipment
Full address and contact information, including phone number for the contact person
Company shipping the item
Shipments may be left after the event awaiting pickup only if they are fully packaged and ready for shipment with bill of lading attached and have been checked in with Younes Hospitality staff. Packages waiting to be shipped from the hotel/conference center must already be called in for pickup with the shipping company. The staff may require the item to be moved to a storage area to accommodate other incoming events. Moving of the item is the exhibitor's responsibility. Outbound shipments must be picked up within two (2) days following the event's conclusion. Any items left in the exhibit area that have not been identified and checked in with Younes Hospitality staff as outgoing shipments, or have not been picked up within two (2) days after the event's conclusion, will be disposed of.
Drop-off and pickup times must fall within exhibitor setup times as arranged with the hotel/conference center.
The Conference Center does not have a loading dock. If any items need to be unloaded by a forklift, it must be arranged with a third party.
BEWARE of Emails or phone calls for Room Reservations masquerading from any Younes properties in Kearney, Nebraska. No legitimate emails or phone calls are being sent from any Younes property. Please contact them directly by phone or through the online means listed below.
Room Reservations – Crowne Plaza
Conveniently attached to the Younes Conference Center North. Includes complimentary WiFi. Check-in is at 4 pm. Check-out is at Noon.
Use the online reservations button below or call (308) 238-7000.
Alternate Room Reservations – Hampton Inn
Hampton Inn, 507 Talmadge St, Kearney, NE 68845
Includes complimentary WiFi or wired internet access and complimentary breakfast. Check-in is at 3 pm. Check-out is at 11 am.
Make reservations by calling (308) 234-3400
For any information regarding the Nebraska Agri-Business Exposition:
Rebecca Barker, Show Coordinator
Nebraska Agri-Business Association, Inc.
8700 Executive Woods Dr, Suite 400
Lincoln, NE 68512-9612
Phone: (402) 476-1528
No Fax Available