Agenda and Registration Details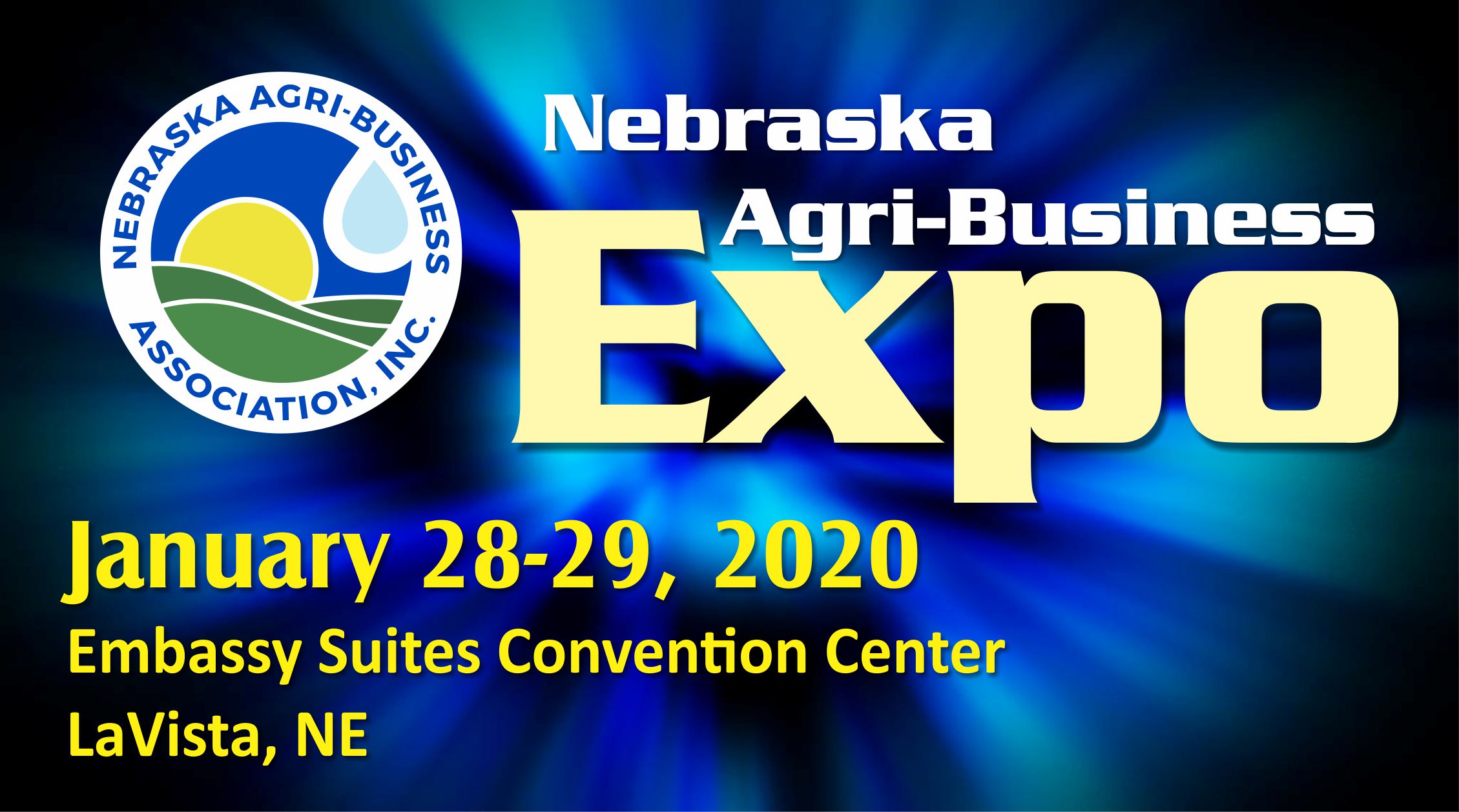 See Below for Details on the 2020 Nebraska Agri-Business Exposition: 
Register for the January 28-29, 2020 Nebraska Agri-Business Expo:
Participate in our Raffle! Must Be Present To Win!
Prizes:
Make Room Reservations by January 4, 2020
Click the button below to make your room reservations at the Embassy Suites La Vista Coference Center, 12520 Westport Pkwy, LaVista, NE 68128
Call (402) 331-7400 
Room Rate: $149.00 Single & Double Rate (plus applicable taxes)
The Embassy Suites is an all suite property offering complimentary breakfast and evening reception. WiFi in your room is complimentary
Check In 4:00 PM — Check Out 11:00 AM
The Embassy Suites La Vista Conference Center is the headquarter hotel for the Nebraska Agri-Business Expo!
Agenda
Time
Event
Room Assignment
January 27, 2020
8:00 am - 6:00 pm
Exhibitor Move-In
Windsor V-X
10:30 am - 4:30 pm
Exhibitor Registration
Pre-Conference Area
January 28, 2020
8:00 am - 9:00 am
Exhibitor Registration
Pre-Conference Area
9:00 am - 6:00 pm
Trade Show Open - Registration Open
Windsor V-X
8:30 am - Noon
Education
Windsor II & III

8:30 am - 9:20 am

"Mandatory Dicamba Training for 2020" -
Robert Klein, Instructor (1 CCA CEU)
Windsor II

9:30 am - 10:00 am

"Hemp Rules and Regulations: Where we are and what to expect"
- Ansley Mick, Director of Nebraska Farm Bureau -
PAC & State Governmental Relations
Windsor III

10:00 am - 10:50 am

"Hemp: an old crop with renewed interests"
- Ismail Dweikat, Professor,
Department of Agronomy and Horticulture,
University of Nebraska-Lincoln
Windsor III

11:00 am - 11:50 am

"Industrial Hemp Production Potential in Nebraska" -
Dipak Santra, Ph.D., Associate Professor
(Alternative Crops Breeding Specialist),
Department of Agronomy and Horticulture,
University of Nebraska-Lincoln
Windsor III
12:30 pm - 4:30 pm
Pesticide Recertification
Windsor II

12:30 pm

"Weed Management" - Robert Klein

1:00 pm

"Insect Management" - 2019 PSEP Video - Justin McMechan

1:30 pm

"Pesticide Application including Spills and
Protective Equipment" - Robert Klein

2:00 pm

"Disease Management" - 2019 PSEP Video - Tamra Jackson-Ziems

2:30 pm

"Dicamba including Cleaning Sprayers" - Robert Klein

3:00 pm

"General Standards Training" - 2019 PSEP Video
"IPM" - Jody Green
"Laws and Regulations" - Trevor Johnson
"Worker Protection Standards" - Trevor Johnson

3:30 pm

"Pesticide Label and Label Exercise" - Robert Klein
Respirators, Signal Words, Precautions, Directions for Use,
Label Extensions, Formulations, Adjuvants and Storage


4:00 pm

"DriftWatch/Bee Check, Endangered Species,
Pesticides and Groundwater, Pesticides
and your Health" - 2019 PSEP Video

4:00 pm - 6:00 pm
Social in Exhibits
Windsor V-X
6:00 pm
Trade Show Closes
Windsor V-X
January 29, 2020
8:00 am - 9:00 am
Exhibitor Registration Only
Prefunction Area
9:00 am - Noon
Trade Show Open - Raffle Drawings throughout
the morning
Windsor V-X
9:00 am - 10:00 am
Silent Auctions Open
Windsor V-X
9:00 am - 1:30 pm
Student Career Day
Windsor II-II
10:00 am
Silent Auctions Close
Windsor V-X
11:00 am
Silent Auction Items Awarded
Windsor V=x
Noon
Trade Show Closes
Windsor V-X