ARPA (Not The Cryptocurrency)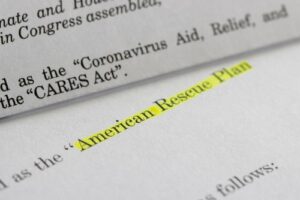 The Legislature reconvenes on Tuesday, Day 45 of this short (60-days) session, and that Window O' Opportunities is quickly sliding shut.
In this the second year of Nebraska's biennial budget, the state coffers are utterly flush with one-time cash. The cash reserve, or Rainy Day Fund, stands at $997.5 million today, and the projection for FY 2023 is $1.343 billion. But, not to worry, the Governor and 49 state senators have plans to spend down that reserve by perhaps a third.
Then there's the one-time $1.04 billion from the federal American Rescue Plan Act (ARPA). Not unexpected, state and local government entities submitted requests for three times the amount of available funds.
In a short legislative session, the budget must advance from Select File (round 2 of 3) by Day 50. That means the bill must advance by Friday, Day 49. So the Speaker intends to move the non-ARPA budget to Final Reading on Thursday. The ARPA budget bill LB 1014 will not be on General File until Tuesday, but Speaker Hilgers wants to move it to Final Reading on Friday as well.
LB 1014 is designated as a Speaker Major Proposal to eliminate some of the nonsense that some in the body would undoubtedly attempt. This move allows him to rearrange and even ignore nonsensical senator amendments. Brilliantly, every new ARPA spending proposal must include the one-time cost as well as the budget cuts that fund the proposal.
Look for a trifecta compromise that reduces property, income, and Social Security taxes. You will know it when Senators Linehan, Friesen, and Lindstrom group hug under the balcony.
ARPA, Making Your Dreams Come True!
__________________________________________________________________
Final Reading
LB925 (Gragert Priority) Resilient Soils and Water Quality Act to accelerate the use of best management practices for healthy soil. Appropriates $250,000 per year for five years.
Select File
LB91 (Brandt) Monitor – Expands the date after germination or viability testing that native flower and grass seeds may continue to be sold or offered for sale without retesting and allowing seed viability testing instead of germination rate testing for certain seeds. Defines native and nonnative plant species, seed germination, storage, testing, viability, and sales.
LB805 (Hughes) (Agriculture Committee Priority) Changes provisions relating to the Noxious Weed Control Act and management of black-tailed prairie dogs.
LB939 (Linehan) (Revenue Committee Priority) – Income tax cuts:

Corporate income tax: 5.58% under $100,000. Above $100,000: 7.5% in 2022, 7.0% in 2023, 6.5% in 2024, 6.14% in 2025, 5.84% in 2026.
Personal income tax: Above the top rate of $58,000 (married filing jointly): 6.84% in 2022, 6.34 in 2023, 6.14 in 2024, and 5.84% in 2025..
 General File 
 Held In Committee 
________________________________________________________________
Links