Gotta Get A Boat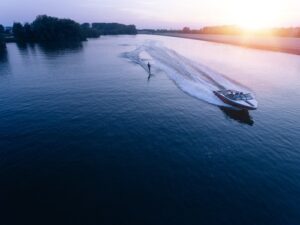 Big idea! Big water! Big price tag! Last week, Speaker Hilgers cast $200 million in his wake by introducing LB406 and LB1023. The plan is to build marinas and upgrades at Lake McConaughy and Lewis and Clark Lake and a lodge and event center at Niobrara State Park. Toss in the price of a couple of studies for a new 3,600-acre, seven-mile-long sandpit lake in Sarpy County, and we will all be shopping for 24 foot Malibu Wakesetters!
The public hearings saw a brigade of giddy economic developers from Keith County (Ogallala) and Knox County (Center). They proclaimed, "population growth and prosperity will abound if only they score some of that cash."
On the other hand, the Nebraska Chapter of the Sierra Club opposed population growth and prosperity. They particularly dislike the development of the new lake for recreation, fishing, and new homes. Testifier, Al Davis, suggested devastation from the likes of silt infiltration, invasive fish species, altered groundwater table, flooding, threats to downstream life, and even pestilence. I apologize. Al did not mention pestilence.
Omaha depends on the Platte River for half of its water supply. Lincoln pipes 100% of their water needs from the Platte. The proposed lake could affect those cities' ability to pump sufficient amounts of potable water. As expected, water utility employees from both cities testified. They want a $20 million study and access to more water before they are happy.
Potentially affected Sarpy County land and homeowners testified as well. They are in the crosshairs of a transformative project with developers and speculators circling. Meanwhile, the new lake has yet to be mapped, surveyed, studied, or even approved for funding by the Legislature.
These people are in a tough spot, especially with the threat of future eminent domain. Fortunately, they have someone who will cover their backs, Speaker Hilgers. They can trust Mike to do the right thing for them. Plus, he will surely be Nebraska's next Attorney General. So they have that going for them.
__________________________________________________________________
 General File 
 Held In Committee 
________________________________________________________________
Links