Guardrails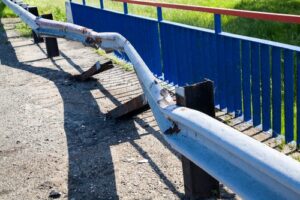 According to transcripts from this legislative session, guardrails is the second most disingenuous expressive used in the Nebraska Legislature. Tax relief remains solidly in first place, while for the children has fallen to a distant third.
Take LB241, for example. The bill mandates costly and unnecessary regulations on Nebraska's meatpacking industry, in the name of COVID protection. The bill sponsor claims it provides "basic guardrails" that protect plant workers.
The bill is about a year late with the whole guardrails thing. Comprehensive precautions and mandates are already in place, and workers are tested every day. BTW, very few meatpacking workers test positive for COVID anymore. Methinks these basic guardrails are most effective at steering media attention to a particular candidate for Congress.
May is Beef Month! Governor Ricketts announced a new Nebraska Beef Passport program featuring 40 restaurants that serve meat. Customers order beef from the menu and earn stamps redeemable for prizes. YETI full of beef? Our Beef Passport makes that Colorado "MeatOutDay" completely lame.
Filibusters are routine this time of year, and Speaker Hilgers has managed the process with no visible sign of hair loss. Monday is Day 75 of 90. This week we expect to see Select File debates on taxation and spending bills. A few General File Priority Bills might reach the floor as well.
On Wednesday, Senator Wishart's medical cannabis bill (LB 474) will come up for General File debate filibuster. Eight hours should provide sufficient time for opposing sides to clear the air.
The Speaker indicates he may end this session sine die before the ninetieth day – June 10. He wants to extend the break for senators before calling them back into a special session to deal with redistricting. The smart money for early adjournment is May 27 – Day 86. If only we had a casino.
Approved by the Governor 
Final Reading 
 Select File 
 General File 
LB91 (Brandt) MONITOR – Expands the date after germination or viability testing that native flower and grass seeds may continue to be sold or offered for sale without retesting and allowing seed viability testing instead of germination rate testing for certain seeds.
AM96 Defines native and nonnative plant species, seed germination, storage, testing, viability, and sales.
LB290 (M. Cavanaugh) OPPOSE – Adopts the Paid Family & Medical Leave Insurance Act.
 Held In Committee 
 Failed to Advance 
LR11CA (Erdman Priority Resolution) MONITOR – Resolution for a constitutional amendment for a consumption tax. LR11CA changes the way taxes are collected and replaces the income tax, the sales tax, the property tax, and the inheritance tax with a consumption tax and directs the Legislature to enact a consumption tax.
 Indefinitely Postponed 
LB239 (Hilkemann) MONITOR – Restricts phone use to hands-free only while driving.
LB625 (Vargas) MONITOR – Imposes a surtax on certain taxable income and uses the tax proceeds for early childhood education.
Links