Linehan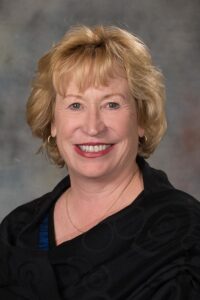 US Rep. Jeff Fortenberry resigned from Congress yesterday. Read about it everywhere else.
State Senator Lou Ann Linehan is in her fourth year as chair of the Legislature's powerful Revenue Committee. She's tough, intelligent, and strategic. She is the leading advocate for reducing the tax burden. You like her when you meet her. But, you also know you want her in your corner when all hell breaks loose.
Linehan was US Senator Chuck Hagel's Chief of Staff for eight years. She then served as deputy assistant secretary for legislative affairs at the State Department under Colin Powell. Lou Ann took an assignment to Provincial Reconstruction Team Baghdad as part of President Bush's Iraq surge under Ambassador Ryan Crocker and General David Petraeus. She worked in Iraq and at the State Department until 2012. Her final deployment was Basra overseeing 1500 personnel. Think she's qualified?
Unfortunately, all hell did break loose several times last week. Her LB 939 would cut Nebraska's top income tax rate for corporations and individuals to 5.84%. Even after this tax rate reduction, Nebraska would be higher than surrounding states: South Dakota (ZERO), Iowa (3.9%), Colorado (4.5%), Kansas (5.7%). True to our state slogan: "Nebraska: Honestly, it's not for Everyone!"
LB 939 was already on Select File, but Tuesday, it could not reach the 33 vote threshold to overcome a filibuster by liberals and was passed over. Linehan amended her LB 939 language into Brett Lindstrom's LB 825 on Select File to keep her tax cut bill alive. His bill would accelerate the elimination of income taxes on Social Security benefits.
LB 825 came up Friday and immediately faced a filibuster. Liberals once again prevailed as the vote to cease debate was defeated by one vote, generally along party lines. Democrats McDonnell and Wayne supported cloture, while liberal Republican John McCollister opposed the override.
Lou Ann may be down with only eleven days remaining in this session, but never count Senator Linehan out!
__________________________________________________________________
Final Reading
LB925 (Gragert Priority) Resilient Soils and Water Quality Act to accelerate the use of best management practices for healthy soil. Appropriates $250,000 per year for five years.
Select File
 General File 
 Held In Committee 
________________________________________________________________
Links